Welcome to TCRHOA
Fires At Twin Creeks Ranch.
With the fires running up Tunk Valley and into Twin Creek Ranch many of our neighbors have lost their homes. Copied from the Tunk Valley Community Facebook page- Aug 22-
This is from tonight after we left our house on Twin Creeks. We are sorry that Bob and Carol Wright lost their house. Unfortunately that fire is headed towards
twin creeks. They have volunteer fire fighters trying to keep this fire at bay. We desperately need outside fire fighters. I had no idea how bad this was and is until I saw the devastation myself. Pray that the volunteers stay safe and get more help.
AUG 23
-
I just heard from Feanette Swanson a property owner near the end of Stage Coach Trail and she said she saw that Look out trail most of the homes were lost there
- Bob Cat trail most of the homes are gone- Powers Butte only has 1 home left John's place and the rest are gone- All is good on Stage Coach Trail so far not out of the woods yet- The North side of Bear scull is all on fire- We need volunteers bad up there for fire suppression as Riverside fire is overwhelmed with local fires- The fire crews that are up there right now. They are from Mason County- Utah crew- Orting Valley crew. This is all I know for now until hopefully my husband Steve Choate comes back down here. I hope this information helps.
For updates on the fires in the Valley click the link above.
Also there is a Go Fund Me set up to provide our community friends and neighbors the funds they need to fight these fires. Fire fighting resources are all spread thin , please help these heroes save what they can. !!! Go Fund Me
There is also a Google Map with overlays of the fires. I am including that link here -mapping surpport.com
Here are a few shots of the Twin Creeks Fire Crew at work. Sent in by Robert Wright.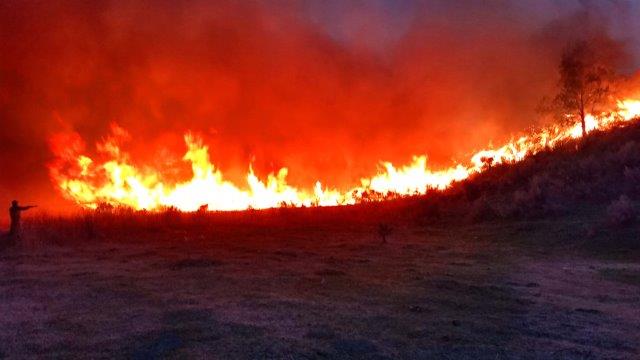 ---
2015 Annual Meeting Minutes are now posted Click on the Minutes Tab on the left to view .
---
The burn ban is now in effect for all of Washington east of the Cascades. For information on fire status in Okanogan County dial 1 800 323 2876 and you will be prompted to type in the first four digits of the county which is Okan=6526. This will be a very dry and dangerous year for fires based on our current drought conditions and please be extremely vigilant wherever fire is involved.
---
We have sprayed for weeds at Twin Creeks and the following chemicals were used. These chemicals used are the same formula that is approved and used on many Okanogan County roads for weed control. MSDS sheets can be found online by typing in name of chemical at web site prompt. Ex: ( Weed master msds sheet)
a. Milestone EPA # 62719-519
b. Weed Master EPA # 71368-34
c. MSM-60 EPA # 83851-3
d. MSO Spray Adjuvant (No EPA # required) –Basically a soy oil dispersant.
---
We have added a Tab for your convienance
Minutes
: includes the current annual meeting minutes and all meeting minuets since 2008
---
---
A couple New Photos in the Photo Album
Do You Remeber this? Does anyone have an updated photo of the Spirit Tree?
---
Thank You! Christy Miller for setting up the Tunk Valley Community Facebook Page
Click the facebook logo for the Tunk Valley Community Facebook Page
---